Engy Jarrouj
15 October 2020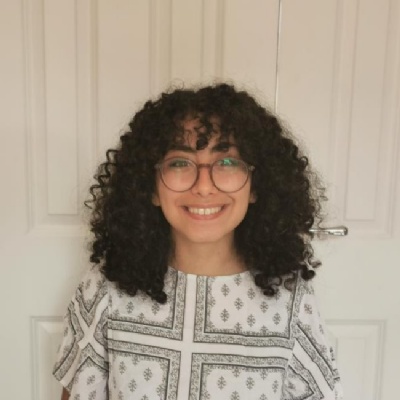 Engy was selected to attend UWC Mostar in 2019.
1. What were some challenges you had to face as a UWC student?
UWC was the best and the most challenging experience of my life. Before going to UWC I had to get through 6 years of war in which my whole neighborhood turned to ruins and I had to escape with my family from one part of Syria to another, seeking safety that was never really reached! But I always used to think that I am strong and I overcame it. I always used to go from place to place painting half destroyed walls and volunteering for NGOs. I used to tell myself it is not time to collapse and let depression take away the energy I can use to help other people who are in need. When I moved to UWC Mostar away from the destruction and war, I realised suddenly that I am really not okay. I found myself suffering from the war trauma that I could not see before. At that same time I was having problems learning English and getting along with the International Baccalaureate. It was all very challenging for me. And that was the first time in my life I asked to be saved instead of always playing the part of the savior. The school psychologist was there for me throughout the whole of the first year. I felt so comfortable with her that I was speaking freely without being ashamed of my English nor my history. Because I wanted to help myself and because she was the first person outside of Syria to listen to my stories and not judge me or think of me as less worthy than other people, I got much better with time. I started doing better in academics and I started making friends from all over the world who are still until this day the closest to me. With time I started to realise how much I love those friends and how much they love me too. I started realising how strong the war had made me to work and fight harder in order to achieve my dreams. That all made me realise that the war experience did not make me less worthy than other people. It made me special and stronger. It made me realise how much this world needs changing and that is why I needed to be in UWC. Overcoming the war trauma is the hardest challenge I have faced and I was able to do it all because of the support I had from the amazing people at UWC.
2. How would you describe your UWC experience?
UWC was like a journey for me to get to know my real self. I was raised my whole life in Homs, Syria, in a very closed environment. Throughout my whole life I had to live in a specific way that was approved by everyone else except me. I always used to feel that everything around me was controlling the way I can be and express myself. When I moved to UWC there was too much freedom that made me really scared at the beginning. I felt lost and scared of doing something wrong. I did not know who to be where there is freedom. I did not know myself much at that point to know what way I would like to act in a community that supports me in whatever way I act. And that is where the journey of discovering myself started. Questioning myself all the time and talking to the other UWC students who are experiencing the same was my one and only tool. And with time I started to realise the more I discover about myself, the more I get to understand the swings of my emotions that I could not understand before. The more I discovered about myself, the more I was able to put my energy towards the right things as I had a much clearer idea about what I wanted. I started to enjoy people's company more as their company was not preventing me from being myself. I started to enjoy the sun, the wind, painting, the music, and dancing. I simply started to be more confident and happier the more I got to be myself. It is amazing to start a journey when I am able to discover something new about myself every single day. Being a UWC student was the turning point for me to start that life changing journey.
3. What are you doing now, after graduating?
I am currently studying animation at Norwich University of The Arts in England. And the main reason why I am here today is because of the different opportunities that being a UWC student has given me. Studying International Baccalaureate (IB) at UWC opened many doors for me in terms of the number of universities around the world that I could have a very high chance of getting accepted by, and the amount of the scholarships that they have offered. I think a big part of why I am succeeding my university course today is because I was quite prepared in terms of writing essays and doing extensive research by studying IB. Being at UWC also helped me out by being able to try different courses that I never tried before, so it helped me to discover what I really enjoy doing in order to choose the right course and university when applying.