Pearson College UWC
200 students aged between 16-19 years
3 March 2017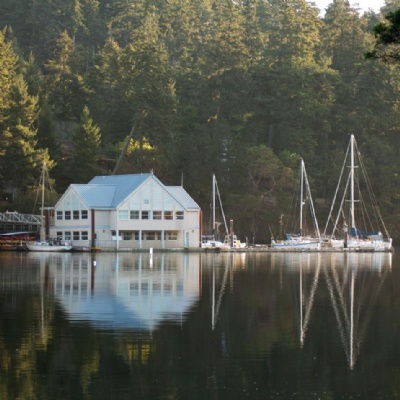 Pearson College UWC is Canada's most globally-minded school. It draws accomplished young leaders and changemakers from up to 160 countries and every province and territory of Canada. As a two-year, pre-university curriculum, Pearson offers both the International Baccalaureate Diploma Programme (IBDP) pathway and, pending approval, beginning in 2022-23, a Climate Action Leadership Diploma (International Baccalaureate Career-related Programme, IBCP) pathway. Both feature a strong emphasis on experiential education at the residential campus along the Salish Sea Bay at the southern tip of Vancouver Island.
Three Unique Features
A Global Visionary – Pearson College UWC was created and named to honour the legacy of 1957 Nobel Peace Prize Laureate Lester B. Pearson, a former prime minister, whose vision of peace and global cooperation inspired him to ask: "How can there be peace without people understanding each other, and how can this be if they don't know each other?" Pearson was recognized by the Nobel Committee for his role in conceiving and creating the first UN multinational peacekeeping forces.
Unique geographic and spiritual environment – Located on the west coast of Canada on the traditional territory of the Sc'ianew (Beecher Bay) First Nation, the campus' forested and temperate coastal location encourages students to undertake challenging academic and experiential learning in both modern classrooms and outdoors year-round.
Ecological Marine Reserve – Pearson College UWC acts as Eco-guardian for the world-renowneded Race Rocks Ecological Reserve. Students learn through marine sciences courses, diving activity and volunteering on the reserve and around Race Rocks islands.
In the Classroom
Pearson College UWC offers the International Baccalaureate Diploma Program (IBDP) curriculum. Alongside standard courses, the college offers Philosophy, Marine Science, French, Spanish, Visual Arts and Theatre. Pending approval, a new Climate Action Leadership Diploma (International Baccalaureate Career-related Programme, IBCP), with courses created in conjunction with regional universities, will also be offered beginning in the 2022-23 school year.
Outside the Classroom
At Pearson College UWC, students learn by doing, particularly through the Creativity, Activity, Service (CAS) programme. To graduate, students are also expected to complete 80 hours of service between first and second years, often in their home communities.
Once per term, students plan, design and carry out individualized or small group projects.
Students share international music, dance and stories of their homelands and their international experiences at the annual One World community event. They also run and participate in regular community events such as Global Affairs, Special Topic Days, Cultural Sharing Days, Village Gatherings and can volunteer for the campus Emergency Response Team.
Students are required to perform duties around campus as part of their Village Service. For example, they may work as media assistants, fundraising assistants, collect recycling or work in the library.
Weekly student-led fitness programmes supplement daily fitness opportunities.
Campus and Facilities
Students, as well as many faculty members and their families, live together on campus. Facilities include five student residence buildings accommodating 40 students per house, plus a House parent apartment. Student residence houses were gifted SENĆOŦEN language names in 2021 by the Sc'ianew First Nation Chief and Elders.
The facilities are built in a West Coast Modern style designed to reflect and respect the natural setting and include a waterfront dining hall, state of the art science labs, classrooms, a 300-seat theatre, small lecture hall, visual arts facilities, an Education Resource Centre/Library and a Spiritual Centre. Unique architectural features include a floating marine sciences centre on the bay that contains a well-equipped seafront environmental systems lab and a hilltop observatory that facilitates astronomy study and exploration of the night skies. Students also conduct research above and below water at nearby Race Rocks Ecological Reserve. On-campus recreational facilities include a 25m indoor pool and exercise room, outdoor tennis, basketball and volleyball courts, soccer field, student common room and extensive hiking and cycling trails emanating from the campus.
Geographic Setting
The campus is in a forested Salish Sea setting on Pedder Bay near the southern tip of Vancouver Island on the west coast of Canada, about 30 kilometres southwest of the provincial capital of Victoria, British Columbia. College lands are located on the traditional territory of the Sc'ianew (Beecher Bay) First Nation.
Contact Details
---
Pearson College UWC
650 Pearson College Drive
V9C 4H7 Victoria
Canada