UWC Costa Rica
Santa Ana Downtown, Costa Rica
192 Students
Aged 16-19 years
3 March 2017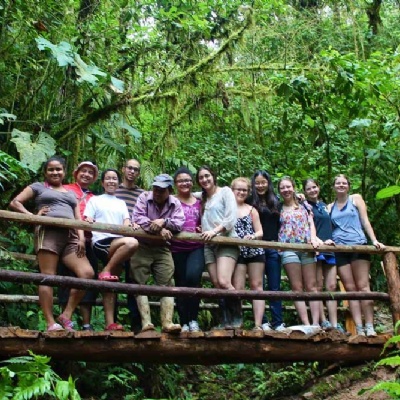 The educational programme at UWC Costa Rica encompasses three main areas: Academics (International Baccalaureate Diploma Programme), Co-Curricular, and Residence Life. All activities and learning opportunities incorporate one or more of the school's six competencies: social responsibility, diversity, conflict transformation, sustainability, leadership, and a healthy lifestyle.
Its mission is to educate a diverse group of youth to become happy, healthy, and committed individuals, capable through their leadership and engagement of fostering positive change in their communities to contribute to achieving a more sustainable and peaceful world.
As the only UWC in Latin America and the Caribbean, UWC Costa Rica offers a bilingual programme, opportunities to learn more about the region's social, political and cultural history, and options to explore Costa Rica. The country's long-standing history of peace, democracy, environmental protection and absence of a national military provide the ideal setting to develop UWC Costa Rica's curriculum.
Three Unique Features
Agents of Change Program - A two-year experiential learning adventure in which students become aware of their capacity for positive change, form their own project teams and partner with local communities or organizations while getting trained step by step in designing, implementing and evaluating a project from a social entrepreneurship approach.
Wellness Program - A multidisciplinary, multi-year, intergenerational school-wide initiative to foster a culture of social and emotional wellness for all community members.
SOS Children's Villages support - Every year, UWC Costa Rica offers full scholarships to SOS Village students from around the world. So far, more than 50 SOS Village students have graduated from UWC Costa Rica.

In the Classroom
UWC Costa Rica is proud to be the only UWC offering the full International Baccalaureate Diploma Program (IBDP) in both Spanish and English. All students are expected to be able to communicate effectively in both English and Spanish when graduating from UWC Costa Rica. Students who already have a good command of both languages may study one or more other subjects in either Spanish or English and thus qualify for a bilingual diploma.
Alongside standard courses, UWC Costa Rica offers Psychology, Global Politics, Cultural and Social Anthropology, Theater, Film, Visual Arts, Environmental Systems & Societies, French.
Outside the Classroom
UWC Costa Rica offers more than 50 different co-curricular activities students can engage in. Additionally, all students must participate in the Agents of Change Programme, established to provide students with the skills to implement collaborative development programmes successfully.
Short Courses
UWC Costa Rica hosts the 360° Sustainability Experience: Immersive Residency, created in collaboration with Grounded In Motion. In this 10-days programme, youth are immersed in a sensory experience that makes it tangible to feel the interconnectedness between the human reality and the wilderness. Participants reflect on their personal relationship with nature and wake up to their sense of stewardship for the natural world to become ambassadors of sustainability.

This short course is part of the wider Outreach & Innovation programme, which aims to scale the impact of the school's mission by offering educational experiences to thousands of young people every year, with a special focus on accessibility for local youth. Outreach & Innovation also contribute to the school's financial sustainability, a significant revenue stream, primarily through facility rentals. UWC Costa Rica is ready to join the leaders of the educational revolution in Latin America. This vision supports UWC Costa Rica in becoming a home, a heart, and a hub for a community of innovators, youth and educators that are changing the world.
Campus and Facilities
The campus is surrounded by scenic mountains and a plethora of flora and fauna that make the perfect setting for a campus life that is safe, exciting, and diverse. Iguanas, armadillos, toucans, and other types of birds are part of the daily life on campus.
UWC Costa Rica has eight residence halls, all named after famous Costa Rican beaches. Each residence accommodates 24 students and includes with eight rooms, two bathrooms, a common area and a fully equipped kitchen per residence hall. Other facilities include an amphitheatre with an 807 square feet stage, a library, a social centre, basketball and soccer playing fields.
Geographic Setting
Twenty minutes away from San José, Costa Rica's capital and ten minutes away from a state-of-the-art hospital, UWC Costa Rica's campus is nestled within the friendly neighbourhood of Santa Ana: an extremely safe and caring community that has taken the College under its wing.
Contact Details
---
Santa Ana downtown,
from the north-east corner of the local church,
400m north
San José, 10901
Costa Rica