UWC ISAK Japan
200 Students
Aged 15-19 years
3 March 2017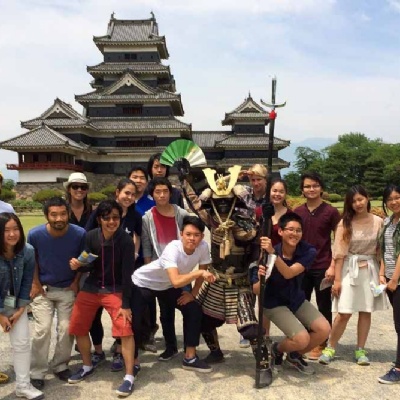 UWC ISAK Japan admitted the first generation of UWC students in autumn 2017. UWC ISAK Japan founder, Ms Lin Kobayashi, discovered her passion for global education while attending Pearson College UWC in Canada. This inspired her to found ISAK, which opened its doors in 2014 to educate young leaders from around the globe who would be catalysts for positive change.
Three Unique Features
Leadership Program - Through an innovative leadership program, which combines the practice of mindful self-discipline and design innovation, students discover what is most important to them as they work to become catalysts for positive change. Leadership practice is integrated into all aspects of life including academics, co-curricular, and the residential experience.
Student-led Approach - Student autonomy is emphasized and encouraged. Students are empowered to start and lead clubs, plan activities and campus events, and establish and maintain policies surrounding dorm life.
Japanese Language & Culture - In addition to the opportunity to study Japanese language, regular outings and excursions give students opportunities to explore Japanese culture, history and traditions. Students can learn the art of Japanese flower arranging and attend a tea ceremony; visit castles, hot springs, temples, and shrines; join in the fun at local festivals and performances; visit museums, plan a homestay, and more!

In the Classroom
UWC ISAK Japan offers the International Baccalaureate Diploma Program (IBDP) curriculum for Grade 11 and 12. Its Pre-IB grade 10 curriculum helps students prepare for the rigours of the IBDP, but many students join UWC ISAK Japan only in Grade 11. Alongside standard courses, UWC ISAK Japan offers Japanese, Chinese, History, Economics, Sciences, Film and Visual Arts.
Outside the Classroom
Students at UWC ISAK Japan enjoy a wide range of co-curricular activities, ranging from sports and language clubs to MUN and debate. Currently, there are 50+ clubs and activities at the College, all designed and run by students, complemented by the annual Project Week's service projects. Throughout the year, the College also hosts workshops and lectures with entrepreneurs, researchers and innovators.
IBDP students design, implement and manage their own two-year Creativity, Activity, Service (CAS) projects throughout Grade 11 and 12. Arts activities include Theater Club, Dance Club, Glee Club, Film Club, student magazine and more. The College also has a wide range of sports clubs (including basketball, volleyball, rugby, baseball, badminton, soccer and running), outdoor education (hiking, camping), and off-campus opportunities (skiing, snowboarding, swimming).
Short Courses
UWC ISAK Japan Summer School is an exciting 2-week program for middle school students (ages 13-14) from around the world. A world-class faculty challenges, engages and inspires participants with a curriculum that includes global topics, mindfulness practice, leadership, design innovation, outdoor activities, and Japanese cultural experiences. Since 2010, students from over 80 countries have participated in the summer school.
Campus and Facilities
UWC ISAK Japan features modern, light-filled buildings designed by award-winning architects with an emphasis on traditional Japanese architectural principals. The campus sits in harmony with its wooded surroundings, creating an inspiring environment for living and learning. The Kamiyama Academic Center, completed in 2016, is a state of the art, light-filled building that includes classrooms, a library/technology centre, study areas, meeting rooms, and the main school office. The Asama building houses additional classrooms, labs, cafeteria, and an outdoor terrace. Residential buildings are rows of connected units known as Houses, each with its own door to the outside. Each House is home to 12 to 18 students. In addition to 2 and 4 person bedrooms, each House contains a kitchenette along with a large communal living room. A gymnasium with full basketball court and natural-grass sports field, and trails for walking/running provide recreational opportunities year round.
In 2021, UWC ISAK Japan opened The Accord Center, a multipurpose facility that serves as a venue for classes, art exhibits, conferences and performances, depending on the configuration. From 2022, the campus will be home to two additional new buildings: a health and wellness center and a creative center, which will host the campus' maker space and arts programmes.
Geographic Setting
UWC ISAK Japan is located in the Nagano prefecture, in the town of Karuizawa (pop. 20,000), approximately 70 minutes from Tokyo by bullet train. Karuizawa is a popular year-round resort destination with four distinct seasons, including snowy winters!
Contact Details
---
UWC ISAK Japan
5827-136 Nagakura,
Karuizawa-machi
Kitasaku-gun,
Nagano 389-0111