UWC Maastricht
Maastricht, The Netherlands
900 Students
Aged 4-19 years
3 March 2017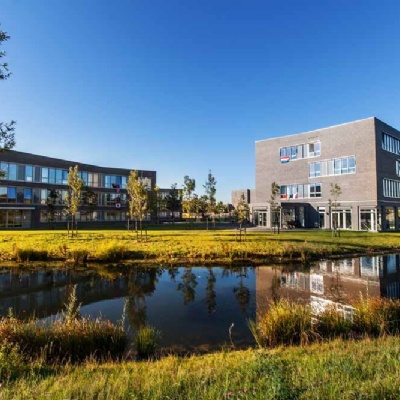 UWC Maastricht is a multicultural school that hosts students from more than 100 different nationalities. It operates within the Dutch public educational system and is subsidized by the Dutch government. The school is formed to serve both the needs of the Maastricht international community and the students chosen by UWC national committees all over the world. UWC Maastricht welcomes students between the ages of 4 and 19.
Three Unique Features
Primary and secondary school, day and residential students, Diploma Programme and Career-related Programme - UWC Maastricht hosts more than 900 international students, ranging from age 4 till age 19. The majority of them live with their families in the region. 200 residential IBDP and IBCP students live on campus.
Social Impact Programme - UWC Maastricht has designed a social impact programme including action-oriented courses, social entrepreneurship, student-led conferences and community service projects. The students develop the skills and attitudes needed to be active participants in society, to identify problems and injustices wherever they exist.
Location - UWC Maastricht campus is located in a very green and leafy part of Maastricht, close to the city centre and close to the German and Belgian border. The city of Maastricht belongs to the top of Dutch destinations for international visitors and tourists alike. It has an open, multilingual, and innovative society, full of vitality.
In the Classroom
UWC Maastricht offers a concept based enquiry programme to primary school students from 4 to 11. The Primary Curriculum provides holistic and integrated education that evokes wonder and excitement about learning. It enables students to gain age-appropriate knowledge, skills and understanding about our world.
The IB-Middle Years Program (11-16 year-olds) encourages students to embrace and understand the connections between traditional school subjects and the real world, and to become critical and reflective thinkers.
To 16-19 year-olds, the School offers the International Baccalaureate Diploma Program (IBDP) and the International Baccalaureate Career-related Programme (IBCP) curricula. Alongside standard courses, UWC Maastricht offers Dutch, Spanish, German, Italian, Arabic, World Arts and Cultures, Global Politics, Visual Arts, Music.
Outside the Classroom
UWC Maastricht equips students with life skills needed to ensure their social and emotional well-being. Therefore the learning process doesn't only happen inside the classrooms.
We encourage Career-related and Diploma Programme students to further develop their talents through CAS, student led initiatives, social entrepreneurship programmes, project weeks and music lessons.

Student led initiatives
UWC Maastricht is proud of its student led initiatives: conferences, festivals, musicals. During the organization, implementation and evaluation students learn how to work in multi-cultural teams outside of academic setting, train in extra-curricular skills, gain new knowledge of different subjects and provide content to the whole school community and beyond. They also get the chance to meet experts, workshop facilitators, organizations and guest speakers from all over the world. Furthermore students will develop contacts with other local and international schools which are participating in the events.

Some examples of these student led initiatives are conferences such as Youth Environmental Sustainability Conference or Sciences Conference. But also an art festival, culture weeks, a musical and TEDxYouth Maastricht are part of them.
Campus and Facilities
The campus was built in 2015 into a park-like environment, close to the north-east of Maastricht city centre. The site is surrounded by sports fields, a nature reserve and new housing. In order to access the campus, one crosses over a bridge that is only accessible to pedestrians and cyclists.
Geographic Setting
Together with its region Maastricht forms a unique part of the Netherlands. Ithas an open, multilingual, and innovative society, full of vitality. It's also home to 30.000 students — half of whom come from outside the Netherlands.

With the Belgian and German boarder close by, Maastricht is definitely the most international city of the Netherlands!
Contact Details
---
UWC Maastricht
Discusworp 65
6225XP Maastricht
The Netherlands