UWC Atlantic
Vale of Glamorgan,
Wales, UK
350 students
aged 15 to 19
3 March 2017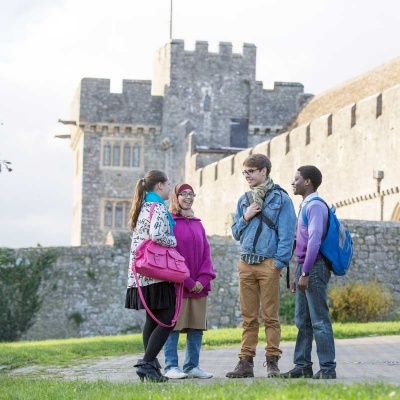 UWC's founding college, UWC Atlantic was designed to promote international understanding through education since its foundation in 1962. It provides a platform for young individuals to learn through shared experience and be empowered to make a positive difference.
Three Unique Features
Historic Heritage - Located in the 12th Century St Donat's Castle in the United Kingdom, UWC Atlantic is the founding College of a global education movement. The Rigid-Hulled Inflatable Lifeboat (RIB) was pioneered here.
Atlantic Outdoors - Focusing on physical challenge, service to others, initiative leadership and teamwork in addition to the academic programme at the College.
Empowerment - Students are given authentic responsibility to make their own decisions and actions, following in the spirit of the educational revolution our founder Kurt Hahn started over 50 years ago, safe in an environment of reassuring presence of adults.
In the Classroom
The two-year Diploma Programme, suitable for 16 – 19-year-olds, has two parts: the International Baccalaureate Diploma Program (IBDP) curriculum, and a programme of experiential learning that focuses on key aspects of peace, a sustainable future, and student initiative. They are interlinked and share a common heritage through the pioneering philosophy of Kurt Hahn, the United World College movement and the education work of Alec Peterson.
The Programme represents the mission of the College in action. It focuses on a lifelong commitment to service in the community, to collaborative work and social engagement and develops in young people a sense of personal initiative and the skills of leadership. Students are placed into positions of trust, authentic responsibility and decision making, and through action and personal example demonstrate a commitment to making a positive difference in the world.
Outside the Classroom
The co-curricular program includes four experiential faculties – Environmental, Global, Social Justice, Outdoor – that allow students to engage in discovery, determine their own pathways, confront risk and overcome the possibility of failure in order to know their own strengths and fallibilities as well as their role in the common cause. Each faculty has two areas: primary delivery, which contains the community engagement program, and secondary delivery, which contains four defining features (activities, student initiatives, mission focus periods and project period).
Campus and Facilities
UWC Atlantic is set in the 12th century St Donat's Castle, a particularly unusual campus setting, hosting larger assembly and classrooms.
The student community is distributed across eight purpose-built boarding houses, accommodating approximately 48 students each, with separate male and female corridors. Generally, four students from the same year group, each of different nationality, share a room. All students are under the care of houseparents, who live in adjacent homes and spend a great deal of time interacting and supporting the students.
Campus facilities include dining hall, library, woodland, indoor and outdoor swimming pool, and classrooms within historic buildings.
Geographic Setting
UWC Atlantic is based on the southern coast of Wales in the United Kingdom. The large town of Bridgend and Wales' capital city, Cardiff, are in fairly close proximity, meaning that the College is located within easy access of many major transport links including bus, rail and air travel.
Contact Details
---
UWC Atlantic
St Donat's Castle
St Donat's
Llantwit Major
Vale of Glamorgan
CF61 1WF
United Kingdom