UWC Thailand
380 Students
Aged 2-18 years
3 March 2017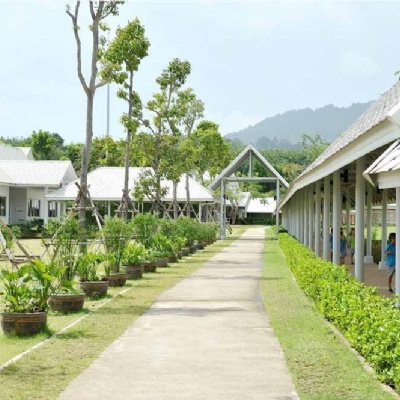 Encircled by virgin rainforest, UWC Thailand sits nestled in the foothills of Phuket's green-capped mountains, away from the island's busy city centres. Our unique location is both symbolic and intentional; a physical reminder that in addition to academic rigour, the UWC Thailand community values global citizenship, wellness, and environmental stewardship. From monitoring coral reefs to embedding positively focused mindfulness, the betterment of our students, our community, and our planet are at the centre of everything we do.
Three Unique Features
UWC Thailand aims to realise the UWC mission by delivering a mindful, diverse education underpinned by its belief in the connection between a "Good Heart, Balanced Mind, and Healthy Body".
Good Heart - UWC Thailand integrates Social Emotional Learning and Mindfulness into its curriculum, providing each of its community members support in developing key life skills, including self-awareness and management, social awareness and effectiveness, and approaching work in an ethical and effective manner.
Balanced Mind - UWC Thailand has a deep commitment to experiential learning, and to making learning engaging and meaningful for all. Through a scaffold of activities and experiences that allow for skill development and eventual mastery; our students learn to challenge themselves from their first days in nursery all the way to DP exams. Through rigorous academics, outdoor education, after school activities, extended essay research, and planning a week-long service project, each year our students realise what we know already: they are capable of much more than they think.
Healthy Body - Being adjacent to Thanyapura, Asia's largest sports and wellness resort, means our students (and their parents) enjoy access to incredible sports and wellness facilities. Thanyapura features four swimming pools, six tennis courts, a running track with a full-size rugby field, gyms, fitness studios and a mindfulness centre. As an athlete-friendly school and a member of the World Academy of Sport, our student athletes are able to balance elite-level swim and triathlon training at Thanyapura with a world-class education, supported by teachers and coaches alike.
In the Classroom
The goal of all IB schools is to create "inquiring, knowledgeable, caring young people who are motivated to succeed." At UWC Thailand, we believe that learning comes from students engaged in the process of 'doing'. Along this journey, we pique students' curiosity through the use of guiding questions to help them move forward and discover answers independently. As a fully authorised International Baccalaureate Continuum School, we offer the Primary Years Programme for students aged 3-12, and the Middle Years Programme is for students aged 11-16, and for 16-19 year-olds, UWC Thailand offers the International Baccalaureate Diploma Program (IBDP) curriculum.
Our Nursery and Preschool programmes for students aged 2-3 years old are also grounded in IB philosophy in an age-appropriate, play-based environment.
The school is also accredited by the Council of International Schools, which is recognised by Ministries, Departments of Education, and universities around the world as a demonstration of a school's commitment to high quality, international education.
Through the alignment of UWC's Core Values and the IB Learner Profile, UWCT delivers an educational experience that:
encourages students of all ages to think critically and challenge assumptions;
encourages students of all ages to consider both local and global contexts to promote intercultural understanding and global citizenship;
develops multilingual students;
fosters personal responsibility and integrity;
honours mutual responsibility and respect;
develops compassion and a life-long commitment to service;
teaches respect for the environment; and,
nurtures a sense of idealism, personal challenge, action and personal example.
Outside the Classroom
In an age of digital entertainment, social isolation and increasing inactivity, the need for Sport, Activities, and Outdoor and Experiential Education has never been greater. Sport is an integral part of life at UWCT, where being principled and developing good sportsmanship—rather than collecting trophies—is our main objective (though we find one frequently begets the other). At UWCT, sport not only contributes to our motto of a "Good Heart, Balanced Mind, and a Healthy Body", but also teaches communication, leadership, time management, and the impact of collaboration and collective responsibility in a tangible way.

Similarly, we view the outdoors as a classroom unto itself, where physically-challenging experiences have a powerful impact upon a young person's intellectual, physical, spiritual, social, and moral development. Our students' outdoor experiences—starting in Grade 1—encompass planning, preparation, and participation in a range of activities including hiking, climbing, kayaking, sailing, and mountain biking; all of which are aspects of our yearly camps and/or expeditions.

To round out our student's educational experience, UWCT offers a tremendous - and vital - array of Co-Curricular Activities (CCAs) and Extracurricular Activities (ECAs) designed to bring students and the wider community together for learning, competition, recreation, performances, and sharing. These activities help to broaden each student's experience and enhance their learning by developing key skills including team work, confidence, and self-management.
Campus and Facilities
UWC Thailand's campus has spacious and extensive hosting facilities for its Early Childhood, Lower Primary, Upper Primary and Secondary students. The boarding house is home to approximately 80 students from grades 9-12.

Located next to Thanyapura, Asia's leading sports and wellness facility, UWCT is accredited by the World Academy of Sport as an Athlete-Friendly Training Centre. This allows our elite athletes to extend the DP from two years to three years, in order to be able to balance demanding training schedules with the rigour of the IB. Students have access to its excellent sports facilities which include an Olympic sized swimming pool, 500m running track, rugby pitch, tennis courts, volleyball courts, mindfulness centre and cardio centre. UWCT also has the distinction of being the only boarding school adjacent to a FINA swim facility in all of Asia.
Geographic Setting
UWC Thailand is situated in the northern part of the island of Phuket. It is a 20-minute drive to the Sarasin Bridge, which connects Phuket to mainland Thailand. Phuket's landscape is a mixture of protected national park, beaches and coastal areas, and rubber plantations with local communities.
Admissions
Applicants for UWC Thailand's Nursery, Primary and Middle school apply to the school directly. The admissions process is based on UWC's mission and values. Students who wish to attend UWC Thailand in Grade 11 and 12 can either apply through their UWC national committee or through the UWC Global Selection Programme. It is UWC Thailand's policy that no more than 20% of any particular nationality is represented within the community. For more information about UWC Thailand, visit the website.
Contact Details
---