UWC Dilijan
220 Students
Aged 16 - 18 years
3 March 2017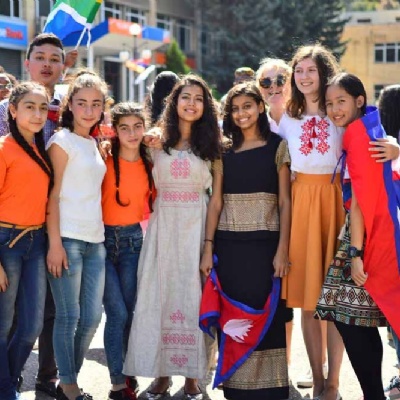 The idea of creating the college was conceived by social entrepreneurs Ruben Vardanyan and Veronika Zonabend back in 2006. Having personally invested USD 150 million in the construction of the campus of the highest international standards, most advanced environmentally friendly and renewable technologies, they were joined by nearly 300 donors from across the world, when UWC Dilijan opened in 2014 becoming the 14th UWC college.
Located in Dilijan, Armenia, on the ancient silk route and at a crossroads of Europe, the Middle East and Russia, UWC Dilijan symbolises the idea of internationalism and friendship. The school aims to work, through education, towards fostering peace and sustainable social, economic and environmental development in the region and the world as a whole.
UWC Dilijan is an independent not-for-profit international boarding school belonging to a charitable trust registered in Armenia solely for educational purposes and overseen by an all-volunteer board.
Three Unique Features
Educational Hub - One of the foremost objectives of the College is to continue contributing to the development of the region as an educational cluster, which, in turn, fosters education throughout Armenia.
Conflict Resolution - Due to its geopolitical location, studying at UWC Dilijan is a unique opportunity for those interested in gaining experience in conflict resolution and peace initiatives.
Glocal Approach - We believe in "glocal", that is, our aim is to be globally relevant but anchored into the local reality. We create an environment of understanding other cultures and celebrating diversity.
In the Classroom
UWC Dilijan offers the International Baccalaureate Diploma Program (IBDP) curriculum. Alongside standard courses, the college offers Russian, German, Spanish, Global Politics, Philosophy, Theater and Art.
With experiential learning as the cornerstone of the UWC education, teachers and staff provide opportunities for students to engage in activities to make sense of their experiences through reflection, dialogue and perspective taking.
With the ratio of 1 teacher for 5 students, the college provides a tailor-made approach to every student, ensuring their best educational experience.

The majority of teachers have had an international experience and a background in teaching IB Diploma prior to coming to UWC Dilijan.
Outside the Classroom
The co-curricular program at UWC Dilijan consists of 4 elements – the Creativity, Activity, Service (CAS) program, Project Weeks, Focus Weeks and Cultural Weekends.
This programme helps UWC Dilijan students to identify personal strengths and areas of growth, build on their potential to challenge themselves and move beyond their comfort zone. It also helps them to become more familiar with the Armenian context, develop the ethics of community service, engage with issues of global significance and develop skills for teamwork and project management.
Students work closely with the local community – Dilijan Community Centre, kindergartens in Dilijan and in neighbouring villages and organisations working with kids and the vulnerable.
UWC Dilijan's outdoor education includes hiking, skiing, sailing and caving expeditions and often involves participants from Dilijan and the neighbouring villages to foster exchange, access to nature and environmental programmes.
Campus and Facilities
Boarding houses at UWC Dilijan offer superb facilities for studying and living. Students have access to the gym, an indoor pool, a sports field including football and volleyball pitches, tennis, squash and basketball courts. Campus facilities include library and resource centre with Integrated IT facilities; dining hall; medical centre; black box performance centre; ceramics workshop. Renewable technologies were employed for the construction of the campus including harvesting of natural springs, using rainwater for irrigation and recycling of greywater.
Geographic Setting
UWC Dilijan is located in the valley of the 16th century town of Dilijan, on the outskirts of a large national park in central Armenia, 100 km away from the capital Yerevan.
Dilijan lies on the road connecting two modern large cities, Yerevan and Tbilisi, in a country that is situated on the border of Europe and Asia, at the heart of the diverse, culturally rich and complex region with a long history at the junction of the Persian, Byzantine, Ottoman and Russian Empires.
Contact Details
---
UWC Dilijan
ARMENIA 7 Getapnya Street,
3903,
Dilijan